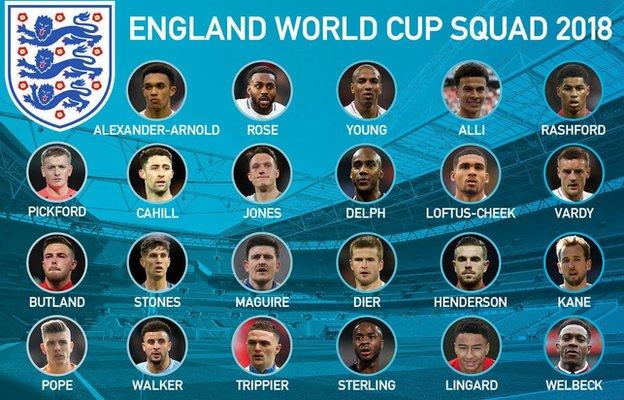 When Gareth Southgate announced England's World Cup squad for this year's tournament in Russia, there were definitely a few surprises and some raised eyebrows. Uncapped 19-year-old Liverpool right-back Trent Alexander Arnold was perhaps the biggest shock name included, but for many it was some of the players that were left out and could feel hard done by that has created the most interesting debates. The likes of Joe Hart, Jack Wilshere, Jonjo Shelvey, Adam Lallana to name but a few could argue they deserve to be on the plane for various reasons but miss out.
One fan, Calum, whilst happy with the selection of the squad refused to get carried away. He said: "It's always like this every tournament. The papers and the media start to go over the top and the players start to believe their own hype. And then it just ends in disappointment every time. These players just don't seem to have it in them to play like they do for the club sides."
Calum's point of view perhaps comes from the largely underwhelming England performances at tournaments. Failing to even qualify for the European Championships in 2008. Failing to arch-rivals Germany at the World Cup in 2010. Failing to make it out of a group that involved an ageing Italy side and Costa Rice. And then perhaps the biggest failure of them all. The debacle that was Euro 2016 when the team was knocked out by an Iceland side whose total population amounts to around 340,000. English memories at major international tournaments have been painful and embarrassing to say the least.
But for some people, it's not all doom and gloom. Rayhan said: "It's an untested team but I think the players are decent and have had good seasons. The point about lack of experience I think is not an issue as the England senior team failed when it had so much experience and the younger players have done much better in recent times, for example with the under 20 World Cup win. The Germany team back since 2008 has been young and really good so hopefully England can emulate that."
Ajean, on the other hand, took a more reserved look at the squad and was understandably cautious at the makeup of the squad. He revealed: "Young squad…but got some inexperienced players. They will need to be organised at the back. Defensively we need to do well."
For 24-year-old Asad, it's a squad that is the most exciting he can remember since the so-called golden generation in the early to mid 2000s. He said: "Rashford, Alli, Sterling, Vardy. They've all got pace and can run in behind. I'd like to see us play 3-4-3 and get as many as of our attacking players on the pitch. We might lose 5-0 but we could win too! Just go out and die trying!"
And that perhaps is the message all England fans would want to send out to the players tasked with the job of performing out in Russia. Leave no regrets.